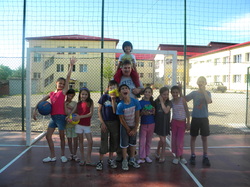 At the orphanage
State run, we have been blessed to work here weekly since 2008.

Started working in Romania in 2003, with services in Nasaud for four years, and three other locations in 2006 and 07.

Teaching over 300 collage hours, helping other missionaries and nationals all along, and in Hungary, Moldova and the Ukraine.

Than in 08 moving to Zalau, with services there and three other locations for several years. Now building a house in Baia Sprie with services in Baia Mare since, and Lunca ilvei every month.









---